Bitcoin's all grown up.
The digital currency splashed into the deep end last night when bitcoin futures debuted on the CBOE Global Markets exchange.
---Sponsored Link---
BREAKING: The Government's 'Ice-Nine' Plan Revealed 
Dear Reader, 
I've just uncovered a coordinated world-wide plan to freeze EVERYTHING you own. Your savings account... FROZEN (you won't be able to withdraw anything.) Your brokerage account... FROZEN (you won't be able to sell anything.) Your retirement account... FROZEN (all that "safe" money you thought you had will be gone.) Your money market account... safe deposit box... bank-owned vault... All FROZEN. It's 100% true... and could be coming to your bank SOON. I've detailed all of this in a brand-new book that I want to send to you for free. Click here now to learn how to claim your copy while supplies last. Please hurry, my research shows this lock-down plan could be implemented at any moment.
Most seasoned traders concluded that the advent of bitcoin futures would unravel the insane crypto rally we've witnessed over the past 12 months. Futures traders would eat the "amateurs" alive and slam the price lower once shorting bitcoin became an option, they said.
But so far, they've been dead wrong...
Bitcoin futures blasted higher right out of the gate last night. They triggered not one but two trading halts as it marched to overnight gains of more than 25% on the CBOE. Reports of the CBOE site going down started flooding in during the first hour of trading. Coinbase, a popular bitcoin trading site, also crumbled under the pressure last night.
Bloomberg noted that while bitcoin is notoriously volatile, futures traders should "help tame swings by improving liquidity and making it easier to bet on declines." But in true bitcoin fashion, no dips have materialized just yet.
"It is rare that you see something more volatile than bitcoin, but we found it: bitcoin futures," one Shanghai-based consultant told Bloomberg.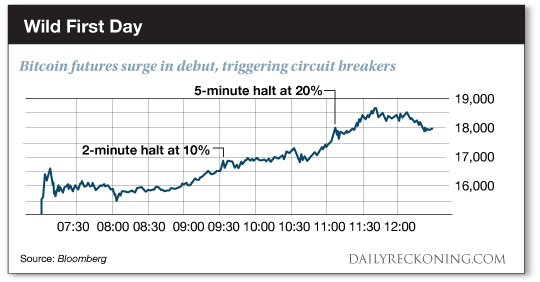 Bitcoin trading is totally bonkers. And it doesn't look like it's going to calm down anytime soon. It's morphed from an underground tech-geek trade to the biggest market mania we've seen in decades. Bitcoin news is pushing stock market stories below the fold. Despite the market's incredible performance this year, equities are starting to take a back seat to cryptocurrencies.
Then there's gold.
Bitcoin is stealing gold's thunder as the holiday season approaches. Doomsday preppers used to stock up on gold and canned goods. Now they've cleaned all the gold out of their bug-out bags and replaced it with bitcoin. Debates over stores of value in the event of societal collapse have shifted from gold to bitcoin. Bitcoin searches are more popular on Google than gold. No one seems to care about the Midas metal anymore.
Bitcoin's rise has taken the wind out of gold's sails. As interest in bitcoin skyrocketed this fall, gold futures started to trend lower. As bitcoin broke above $5,000 earlier this year, gold was topping out at $1,350. Since early September, gold futures have leaked lower by almost 8%, pushing to new four-month lows late last week. Bitcoin has rocketed to $16,000 over the same timeframe.
While new, smaller cryptocurrencies and "initial coin offerings" continue to gain attention, the market's more speculative gold mining stocks are taking a beating. The VanEck Vectors Gold Miner ETF (NYSE: GDX) can't keep its head above water. GDX is down more than 15% over the past three months.
Bottom line: Bitcoin is killing gold right now. We have no idea how long crypto-mania will last. But if the excitement surrounding bitcoin continues through the holiday season, we suspect things will get worse for gold before they get better...
This article originally appeared on The Daily Reckoning.