Don't Buy Gold — Buy This Instead
Trust gold.
Gold is a store of value. It's the world's oldest and most recognized currency. It's a cornerstone of any serious investor's portfolio.
Blah blah blah.
Anyone who has been reading Growth Stock Wire for more than a few weeks knows our affinity for the shiny, yellow metal. We like it. We own it. We buy more of it every time it dips down more than a few dollars. "Buy gold!" we shout over and over. "It's your protection against certain economic collapse."
That has been profitable advice. Gold is up 600% over the past 10 years, 100% since Lehman Brothers went belly-up in 2008, and 25% since this time last year. And I can't help but notice that while the S&P 500 has given up all its gains for the year, gold is still up 7%… and is within spitting distance of its all-time high.
So yes… trust gold. Every serious investor should own some. But don't buy it today.
Gold stocks are a better deal.
It hasn't even been a month since I wrote about the bargains in the gold stock sector. So I'm risking repeating myself here. But if we're going to talk seriously about investing during the "realization" stage, we need to look at gold and gold stocks – again and again.
And right now, gold stocks are a better deal.
Last month I showed you a chart that compares GDX – a market basket of gold stocks – to the performance of gold. Based on that chart, gold stocks were the cheapest they'd been in two years.
But I didn't show you the whole story. The fact is, there was only one time in the past 10 years when gold stocks were cheaper than they are today. Take a look…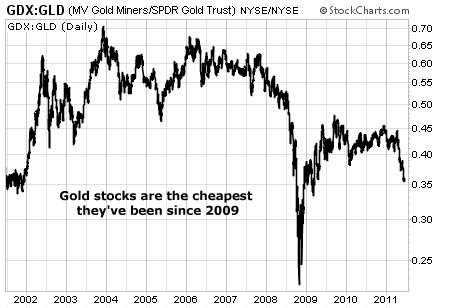 This chart also compares gold stocks to gold. A low number on the chart indicates gold stocks are cheap relative to the metal. A high number indicates gold stocks are expensive.
With the exception of the near financial collapse in October 2008 and the retest in March 2009, gold stocks haven't been this cheap in a decade.
To put it another way… If you haven't bought gold stocks, now is the second-best time since the gold bull market began to buy into the sector.
Of course, there's still room for gold stocks to fall a bit more. Heck, there's still room for everything to fall. But on a relative basis, buying into the gold sector here looks like a good deal.
Best regards and good trading,
– Jeff ClarkSource: Growth Stock Wire
Rock Star Wealth Without Singing A Note?
The rock star Bono, lead singer for mega group U2, recently pocketed an estimated $10 million thanks to a little-known underground stock market. That's more money than his band generates by playing a sold-out rock show in front of 90,000 people. Click here to see how you can access this market too.
More from this Author
January 17, 2013
January 15, 2013
January 11, 2013
January 8, 2013