Get Ready to Buy Silver
Precious metals got clubbed last week. Platinum fell 7%. Gold dropped 10%. Copper got whacked for almost 17%. And silver lost a whopping 26%.
The bloodbath continued yesterday as silver dropped another $3 per ounce at one point. It closed the day at $29.98 per ounce – its lowest price since February.
And now, it's just about time to buy.
The last time we looked at silver was back in April, just before the metal peaked at nearly $50 per ounce. We were cautious back then. The silver trade was just too popular. Silver was trading 50% above its 200-day moving average (DMA) – an extreme condition that led to sharp corrections in 2006 and 2008.
We cautioned that anyone looking to buy silver in April would be better off waiting a few months. Today, silver is down 38% from its peak, and we're looking at nearly the exact opposite condition we saw in April.
Here's an updated chart…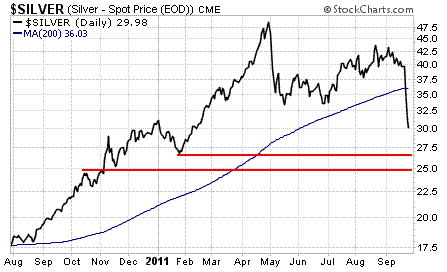 Silver has gone from being 50% above its 200-DMA in April to 20% below the line today. It has gone from popular and overbought to shunned and oversold.
The conditions that had us cautious on the metal in April have reversed. So I'm enticed by silver today.
As you can tell from the chart, silver has price support at about $27 per ounce – its low for 2011. It has even stronger support just below that at $25. Either price would be a good level to start buying.
Of course, it's hard to buy any investment after watching it fall 26% in one week. But taking advantage of extreme conditions is how you make money in precious metals.
Investors were rushing in to buy silver in April when the metal was severely overbought. They were wrong back then. Today, those same investors are panicking and selling the metal into oversold conditions. Somehow, I suspect they'll be wrong again.
Best regards and good trading,
– Jeff ClarkSource: Growth Stock Wire

The 12-Minute Portfolio 510% annual returns. An 85% success rate. 365 worry-free days a year. Enough freedom to go on a cruise every month... all this is happening right now for regular investors using the 12-minute portfolio. To learn how you could get started today -- and get the name of a safe blue chip stock that could soar 670% -- click here.
More from this Author
January 17, 2013
January 15, 2013
January 11, 2013
January 8, 2013