It's Time to Buy This "Once-Loved" Stock
This past January, Alcoa was one of Wall Street's favorite stocks.
According to Yahoo, 17 institutional analysts provided research on the aluminum giant. Only one had a sell rating. The stock traded at $16 a share at the time.
Shares were also up 60% in four months. After Alcoa reported its earnings, Reuters, Zack's, and Bloomberg all praised the company for its solid results.
But I took a closer look…
Alcoa's solid earnings were due to a one-time lower tax rate. Raw-material costs were skyrocketing. Plus, most of its revenue came from the U.S. and Europe – two markets where growth was slowing. At 17 times earnings, the company was priced for perfection… so I suggested you take profits.
Since January, Alcoa has fallen 35%. It now trades at $10 a share. The stock underperformed the S&P 500 by 30%.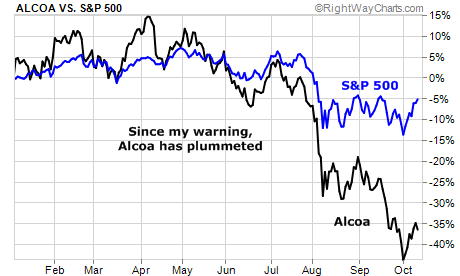 Following the massive pullback, is Alcoa now a buy?
Yes.
Alcoa reported earnings on Tuesday. This time, the results were not pretty. Alcoa beat estimates on the top line (revenue), but its bottom line (earnings) missed forecasts by a mile.
Almost all the analysts covering the stock lowered their estimates. But the share price has fallen so much, Alcoa is only trading at eight times those lower estimates. That's a huge discount from January, when shares traded at 17 times earnings. It's also a 30% discount to the average S&P 500 stock.
From a "macro" perspective, Alcoa's stock price usually performs best when the global economy is strong. This makes sense, given the company's huge geographical reach in places like Russia, Germany, Australia, Brazil, France, Norway, and the U.S.
Since January, these markets have slowed dramatically – resulting in weaker demand. However, economists are now upgrading their growth forecasts in many of these regions. If we see a slight rebound in the global markets, Alcoa should easily outperform the S&P 500.
From a technical perspective, Alcoa has previously bottomed out near $10 a share. Since July 2009, Alcoa has traded between $10 and $18. Every time the stock broke below the $10 level, shares pushed sharply higher.
More important, Alcoa is no longer a "loved" stock. As of last month, 16 institutional analysts provide research for the company. Only half have a buy rating. That's a big drop from January. And it leaves plenty of room for upgrades if Alcoa puts together a few good quarters.
Overall, Alcoa is no longer an expensive stock. It's no longer a Wall Street darling. Plus, it's trading at a level where the stock almost always bounces higher.
I suggest using this pullback as a buying opportunity. At $10, Alcoa has solid upside – with limited downside.
Good investing,
– Frank CurzioSource: Growth Stock Wire

The 12-Minute Portfolio 510% annual returns. An 85% success rate. 365 worry-free days a year. Enough freedom to go on a cruise every month... all this is happening right now for regular investors using the 12-minute portfolio. To learn how you could get started today -- and get the name of a safe blue chip stock that could soar 670% -- click here.
More from this Author
August 13, 2012
July 30, 2012
July 23, 2012
July 16, 2012