This Could Be One of the Biggest Booms of the Next Decade
Would you fill your gas tank for just $2.50 per gallon if you had the chance?
Right now, in many parts of the country, you can buy fuel for $2.50 per gallon… and save $1.50 per gallon on the regular price of fuel.
It's no joke… And it's no marketing gimmick. It's 100% legitimate. You pay $2.50 per gallon of fuel… and drive for hundreds of miles.
If you drive a lot… or if you're tired of paying $4, or potentially $5 for a gallon of gasoline or diesel… this "$2.50 per gallon" fuel can save you thousands of dollars per year. It also represents a tremendous investment opportunity over the coming decade, as I'll show you…
Some of the largest trucking fleets in America are converting their trucks to run on "$2.50 per gallon" fuel. The conventional name for it is "natural gas."
UPS, Coca-Cola, Waste Management (the largest U.S. garbage handler), and Wal-Mart are all buying new trucks with engines that run on natural gas.
Longtime DailyWealth readers know that in just the past 10 years, new technologies have allowed us to access incredible amounts of natural gas in the U.S. A "cousin" to crude oil, natural gas is used to fire power plants, heat homes and factories, make chemicals, and produce fertilizer. Over the past four years, we've found enormous reserves of the stuff, which has caused prices to plummet 70%, with most of that fall coming in the last six months.
Now, natural gas is a cheap transportation fuel.
At these prices, it's a no-brainer for trucking companies to switch from diesel to the clean fuel. This will save tens of millions of dollars each year in fuel costs. After all, just like diesel fuel, natural gas can power trucks all over the place. But diesel fuel costs about $4 per gallon right now. Natural gas costs just $2.50 per gallon. (It provides a bit less fuel efficiency, but overall, it's still a heck of a cost savings.)
Heavy-duty trucks aren't the only ones switching. Earlier this month, Chrysler and General Motors announced they will start making natural-gas-powered pick-up trucks. They should hit the market later this year.
These pick-up trucks will be retrofit (have two separate tanks) to run on gasoline and natural gas. In other words, drivers will be able to fuel up at regular gas stations… and stations that supply natural gas. This is important since there are only 4,000 (public) natural gas fueling stations in America right now. That compares to over 100,000 gasoline stations.
However, almost every major natural gas producer is spending billions of dollars to help build out these new fueling stations. Industry experts call it "America's Natural Gas Highway." Below is a map of new natural gas fueling stations that will come online over the next 18 months.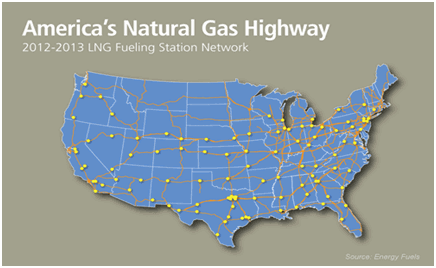 Once these fueling stations are operational, there's a high probability you will see a natural gas powered vehicle in your neighbor's driveway. This may sound far-fetched… But every major auto manufacturer already makes cars that run on natural gas. They just don't make them in America – due to the lack of fueling stations.
The fact that Chrysler and General Motors are building natural gas powered pick-up trucks for the U.S. market is huge news. These auto manufacturers have been building cars for 100 years. They would not waste their time unless they believed this trend was for real.
That doesn't mean you should run out and buy General Motors. It will take years before the auto manufacturer has meaningful exposure to this sector. I led my Small Stock Specialist readers into much better ideas here…
For example, buying the "picks and shovels" of this boom is working out great. My readers are up 202% on Westport Innovations, which makes natural gas engines. They're also up 24% in just a few months in Chart Industries. Chart makes equipment to handle the transportation of natural gas.
These two companies are experiencing a surge in business, thanks to the increasing demand for "$2.50 per gallon" fuel.
Two years ago, this story sounded crazy. To some folks, it still does. But as you can see, this trend is 100% real. Major fleet owners like Wal-Mart and Waste Management are making the conversion to natural gas. Major automakers are going to build pick-ups that run on gas. And there's going to be a fueling station boom over the next decade.
Whether you're saving money on fuel or making big gains on the stocks involved, make sure you're a part this boom.
Good investing,
– Frank CurzioSource: Daily Wealth

Rock Star Wealth Without Singing A Note?
The rock star Bono, lead singer for mega group U2, recently pocketed an estimated $10 million thanks to a little-known underground stock market. That's more money than his band generates by playing a sold-out rock show in front of 90,000 people. Click here to see how you can access this market too.
More from this Author
August 13, 2012
July 30, 2012
July 23, 2012
July 16, 2012