"Canada's Warren Buffett" and Other Gurus Are Loading Up on This Hated Tech Stock
One of the world's most hated tech stocks is showing up in a few "guru" portfolios…
This company is one of the best-known companies in the world. It produces one of the most popular mobile devices ever made.
This stock lost 75% of its value in 2011. At its low, it was down by another 12.5% this year.
The market hates this stock. So why are several world-class investors betting hundreds of millions of dollars on a turnaround?
I'm talking about Research In Motion (RIMM), maker of the BlackBerry smartphone.
In 2007, RIMM's share of the smartphone market was 44%. Then Apple came out with the iPhone and devastated RIMM's sales. Its share of the smartphone market is now just 16%.
Back when RIMM dominated the smartphone industry, its total market capitalization was over $60 billion. Now, the market values RIMM at $7 billion. The stock is now down 90% from the peak.
Not everyone is fleeing the stock, though. Over the last nine months or so, several major asset managers have been buying hundreds of millions of dollars of RIMM stock.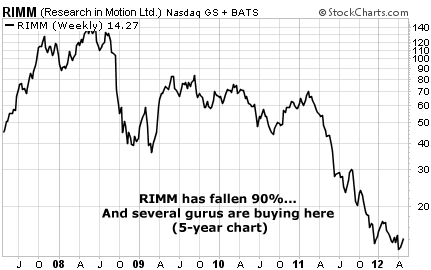 One of RIMM's buyers is Prem Watsa. Watsa is "Canada's Warren Buffett." He's chairman of insurance company Fairfax Financial. Under Watsa, Fairfax has generated annual returns of 23.5% since 1985 versus 10.4% for the S&P 500 over that time. Fairfax owns 12.8 million shares of RIMM, about 2.4% of the company. That's worth $185 million. Watsa also just joined the company's board of directors.
Primecap Management is another big RIMM investor. Primecap is the world's best asset manager specializing in growth stocks. It manages the Vanguard Primecap mutual fund, which is up 954% over the last 22 years. Compare that to 256% for the S&P 500. As of the end of 2011, Primecap owned 5.4% of RIMM, valued at $412 million.
Donald Yacktman is also betting on RIMM. He began the Yacktman Fund in 1992. Since then, his fund is up 350%, nearly double the S&P's 189% rise. Yacktman owns 9.6 million shares of RIMM, about 1.8% of the company. His position is worth $140 million.
You'll find smaller stakes in RIMM owned by other big-name investors, including David Einhorn and Leon Cooperman.
Why are these brilliant investors buying shares in a company that's been locked in a downtrend for 12 months… whose business is getting destroyed by Apple?
For one thing, RIMM has $1.5 billion in cash, more than 20% of the market value. It has negligible debt. So there's no bankruptcy risk. And for all its troubles, 77 million people still use RIMM's devices. In short, RIMM still makes money…
In the 12 months that ended March 2012, RIMM made $1.2 billion and generated $2.9 billion in operating cash flow. Service revenue is 22% of the company's sales. That grew 28% last year.
RIMM also owns a large patent portfolio, which could be worth hundreds of millions – if not billions – of dollars. It's pursuing growth in India, Indonesia, and the Middle East where it's still No. 1 in market share. And it's making its software compatible with competitors' phones, so it can keep its customers happy.
If RIMM's efforts to turn its business around succeed, its stock is going to go up. Even if it just holds steady and starts using some cash to buy back shares, investors could see a big return.
There are lots of ways to win with the stock. If you want to join Watsa, PrimeCap, and Yacktman, take a look at RIMM.
Good investing,
– Paul MampillySource: Growth Stock Wire

The 12-Minute Portfolio 510% annual returns. An 85% success rate. 365 worry-free days a year. Enough freedom to go on a cruise every month... all this is happening right now for regular investors using the 12-minute portfolio. To learn how you could get started today -- and get the name of a safe blue chip stock that could soar 670% -- click here.
More from this Author
October 30, 2012
April 14, 2012