The market snuck higher last week.
The Dow Jones Industrial Average and the S&P 500 both posted small gains, barely registering new all-time closing highs. With just one week to go in the third quarter, no major market events stand in the way of this year's manic melt-up.
---Sponsored Link---
Warning: Seniors In BIG Trouble
If you're a senior planning to retire soon, here's something you need to ask yourself... What are you going to do when the Social Security trust fund runs out of money? Most seniors will be screwed, but a few Americans have already figured out how to "game the system." Thanks to a little-known Social Security contract, they will get money deposited directly in their accounts... No matter what happens to Social Security. It's all thanks to this money that comes from the private sector. Click here to see how this is possible.
But the smartest kids in the room continue warn investors of a potential bubble forming in U.S. stocks...
A recent Deloitte survey notes that more than 80% of CFO's believe U.S. markets are overvalued. That's the highest number of respondents worried about market valuation since the survey began eight years ago.
The pencil pushers aren't the only folks worried about the market boiling over. In fact, new voices are joining the chorus of crash-callers almost every single day. Legendary fund manager Julian Robertson believes "disaster will strike Wall Street if the Federal Reserve doesn't keep raising interest rates," CNN Money reported earlier this month.
The consensus opinion is that stocks are in or approaching a bubble once again.  MarketWatch notes that stocks are at their fourth-most expensive point in history from a valuation perspective, "smack in bubble territory".
With all this bubble talk in the financial media, it's no surprise that some people are cashing in their chips.
I'm sure more than a few investors with itchy trigger fingers sold stocks at the beginning of a potentially volatile September. Everyone's waiting for stocks to pull back or flat-out crash.
Meanwhile, your broker is minting a fortune.
The big online brokers don't care if you ever make a buck. But they do love it when you're buying and selling stocks at a furious pace. Every time a spooked investor hits the panic button and sells all his stock, a broker gets his wings. And in 2017, the big brokers are ready for liftoff.
These stocks first caught fire in early summer. They have absolutely crushed the market over the past four months. While The brokers shook off the weight of the major averages and launched higher through late July while the broad market treaded water...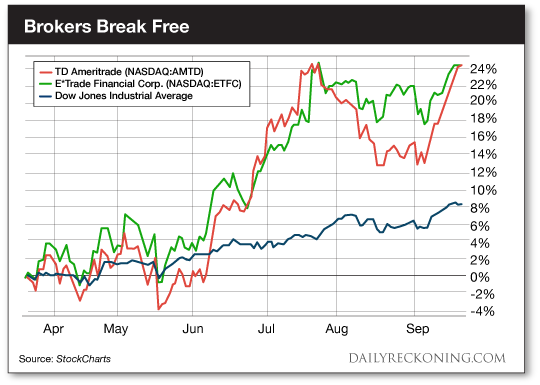 After some August profit-taking, these stocks are quickly moving back toward their summer highs. TD Ameritrade (Nasdaq: AMTD) and E*Trade Financial Corp. (Nasdaq: ETFC) are leading the charge. Both of these stocks are now up almost 25% over the past six months. That's nothing to scoff at -- even in this market.
With the bears growing louder each day, it's not surprising that every single false breakout and market hiccup is earning extra scrutiny. After all, traders hate it when they have to immediately reverse course on a play due to a fake-out move.
But the brokers love this sort of choppy action. If you keep churning your account, they keep getting paid. It's that simple.
This article originally appeared on The Daily Reckoning.