Last week, I received a message from my colleague Davis Ruzicka that nearly made me spit out my coffee.
Here it is: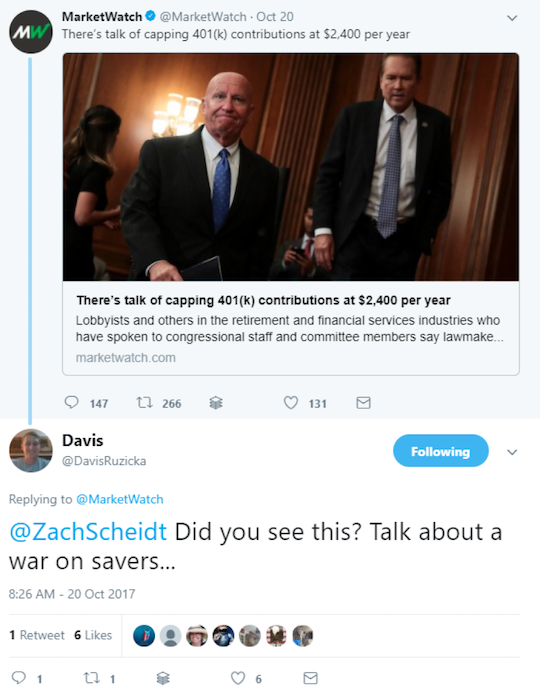 The link was to a news story reporting that Congress is considering lowering the cap for how much you can contribute to retirement accounts.
---Sponsored Link---
BREAKING: The Government's 'Ice-Nine' Plan Revealed 
Dear Reader,
I've just uncovered a coordinated world-wide plan to freeze EVERYTHING you own. Your savings account… FROZEN (you won't be able to withdraw anything.) Your brokerage account… FROZEN (you won't be able to sell anything.) Your retirement account… FROZEN (all that "safe" money you thought you had will be gone.) Your money market account… safe deposit box… bank-owned vault… All FROZEN. It's 100% true... and could be coming to your bank SOON. I've detailed all of this in a brand-new book that I want to send to you for free. Click here now to learn how to claim your copy while supplies last. Please hurry, my research shows this lock-down plan could be implemented at any moment.
Currently, you can contribute up to $5,500 to your IRA ($6,500 if you're over age 50) and $18,000 to your 401(k) retirement account. But if Congress moves forward on this plan, the limits could be set at $2,400.
The war on savers is becoming very real!
Why Congress Wants To Limit Your Retirement Savings
Congress is considering this retirement account limit as details are being hashed out for the new tax bill.
Since there are some big tax cuts being proposed, Congress is looking for ways to offset the lost revenue from these cuts. It seems that your retirement savings is one of the ways they hope to offset the lost revenue.
You see, when you contribute to a traditional IRA or a 401(k) retirement account, your contribution is tax deductible. So if you put $5,500 into an IRA and another $18,000 into a 401(k) account, you won't be taxed on that $23,500 in income that you earned.
These deductions eat away at the tax revenue the government could be receiving from that income. So by capping how much you can contribute to those accounts, the government is putting more of your income square in the crosshairs of the IRS.
To which I say, "Get your hands off my retirement account!"
In today's financial world, savers are under tremendous pressure. You already know that low interest rates are causing savers to earn next to nothing on their deposit accounts. On top of that, the value of the U.S. dollar has been declining sharply all year. (Meaning, the true value of your savings is declining).
Add to that the high stock prices (and danger of a market pullback), the likelihood of our Social Security program going bankrupt, along with other political and economic risks, and it's a downright hostile environment for savers!
This is certainly not the time to be adding more pressure to savers by limiting how much can be put into a tax-deferred retirement plan.
Congress Is Pursuing A Shortsighted "Solution"
One of the reasons I'm so ticked off about this idea, is that it's not really going to help the government gain more taxes over the long run anyway!
Yes, if Congress caps, the amount of money you can contribute to a retirement account today, it'll result in higher tax revenue for the first few decades.
But long-term, it will come back to bite even the IRS.
That's because retirees eventually pay taxes on these retirement accounts when they pull money out during their retirement.
If you're save responsibly throughout your career, and build a big nest egg, then you'll be paying taxes on this nest egg whenever you pull cash out to cover your retirement expenses. And that tax revenue helps the government meet its expenses too.
But what happens if the government limits the contributions to those accounts now?
Over the next few decades, the size of retiree's accounts will be much smaller thanks to lower contribution amounts. And that means less tax revenue when money is pulled out of these accounts years from now.
So this proposal is simply another one of Congress's "kick the can down the road" ideas. It doesn't really solve anything. It just delays the problem.
$2,400 Isn't Nearly Enough
How far will an annual contribution of $2,400 get you in retirement?
Well, it's going to take a miracle for you to save enough to fund a reasonable retirement on this level of savings.
Let's assume you work from age 22 to age 65 (or 43 years), you contribute $2,400 to your retirement account each year, and you compound your earnings at 10% per year (a generous assumption considering the last two decades of boom and bust markets).
Based on these inputs, the size of your retirement account at age 65 will be $1.42 million.
Now, that may sound like a lot, but it's really not when you factor in inflation.
If you assume we will have an inflation rate near 2% (that's the Fed's target rate of inflation), it changes everything! A basic salary of $30,000 today would require more than $70,000 in 43 years just to have the same basic level of earnings.
And of course, there are two problems with this calculation.
1) Inflation is NOT likely to stay near 2%. Considering all of the funny money the Fed has introduced into the system during the last financial crisis, inflation is bound to pick up -- and likely far surpass the Fed's 2% target in the future.
2) I'm assuming that you're not saving today so you can afford a basic retirement with no frills. No, you want to be able to travel, to enjoy your golden years, and to have extra money to spend on experiences with the people you love.
There's no way that $2,400 in annual savings is going to help you get where you want to be for retirement...
What Happens To The Market?
Here's one more problem I have with a low $2,400 cap on retirement accounts...
Much of the capital added to retirement accounts finds its way to the financial markets through mutual funds or direct stock and bond investments.
Think about what happens if these contributions are capped at such a low level...
There will be less investment in the market, ad that will lead to less capital available to grow businesses, fund new projects, and create new jobs.
So capping contributions to retirement accounts could have a very damaging effect to financial markets, and to the U.S. economy as a whole. That's a very real risk that could affect everyone -- even savers who are no longer in the "contribution phase" of their lives.
No matter how you look at it, this idea of lowering the cap on how much can be contributed to your retirement account is a bad idea. It makes a small step toward solving a short-term problem (immediate tax revenue), while creating a litany of long-term risks.
It's simply not worth it!
Today President Trump tweeted that he will not allow the bill to include a stipulation capping retirement contributions. But Capitol Hill sources are still reporting that Congressional leaders are still debating the option.
That's why I want to encourage you to contact your representative and urge him or her to do whatever is necessary to keep this limit from being included in the tax bill.
If enough of us let our voices be heard, we should be able to keep this from happening. So please make sure Congress knows that you're opposed to this unreasonable restriction.
This article originally appeared on The Daily Reckoning.