The market is beginning to reveal a surprising new leader...
The energy sector!
---Sponsored Link---
WARNING: Don't File Social Security Benefits Until You See This
We just uncovered something shocking that could mean the difference between collecting a meager $1,000 from Social Security... Or getting up to $6,235 a month you can use for your retirement. That's real cash deposited in your account... coming from the private sector. But according to a law that governs this special situation, you must act before October 19th. Click here to get started today.
The days of $100 oil are long gone. But energy stocks are beginning to quietly come back from the dead. In fact, the sector just posted its strongest trading week of the year. While most investors remain fixated on the tech sector and the cryptocurrency boom, energy is looking like strong bet heading into the final trading months of the year.
As oil tops $50 a barrel for the first time since May, many forgotten energy names are starting to shine again. The market is telling us it's time to rotate into the sector as lazy summer trading winds down.
You already know how critical it is to have your trading dollars in the correct stocks and sectors. If you aren't catching a ride with the market's most powerful trends, you won't have a shot at beating a passive investment strategy.
For instance, the first half of 2017 would have been a total bust for our trading portfolio if we bottom-fished for energy stocks instead of riding the tech stock boom. Semiconductors and the other big tech names listed on the Nasdaq were fueling the market's motor during the first and second quarter. Our positions in stocks like PayPal Holdings (Nasdaq: PYPL), Facebook (Nasdaq: FB), and Amazon.com (Nasdaq: AMZN) powered our portfolio and made up for any of the small losses we incurred.
On the other end of the spectrum, energy stocks weighed down the market's performance. Oil was slumping to new 52-week lows as recently as June, threatening to tumble into a new bear market. The energy sector was faring even worse as oil continued to slide.
By mid-June, the Energy Select Sector SPDR (NYSE: XLE) has dropped more than 16% from its December highs. Meanwhile, sizzling comeback plays like the SPDR S&P Biotech ETF(NYSE: XBI) had jumped a staggering 29% over the same timeframe.
Digging a little deeper, we uncovered more grim energy stats. Bespoke Investment Group noted over the summer that the energy sector underperformed the S&P by more than 23% over the past year. Such a wide performance gap is quite unusual. Since 2000, Bespoke notes that this margin of underperformance has only happened twice.
Poor energy stocks just couldn't catch a break. The latest summer slump comes on the heels of an oil price that was consistently victimized by a whipsaw market last year. In summer 2016, oil prices quickly jumped above $50 a barrel for the first time in nearly a year. U.S. stockpiles were down and China demand came in stronger than anticipated. Both factors helped push oil over the hump.
But these gains were short lived. Oil bears were just taking a quick nap. After topping out, oil prices fell for six straight days. It was the longest bearish run for oil since early 2016 when prices plummeted below $30 a barrel.
As you would expect, the once-popular energy stocks have not flourished in the new era of cheap oil. Just last year, the sector's attempted comeback was cut short in December. It's remained in a nasty downtrend ever since while the broad market has maintained its strong performance.
But that's all changed over the past four weeks...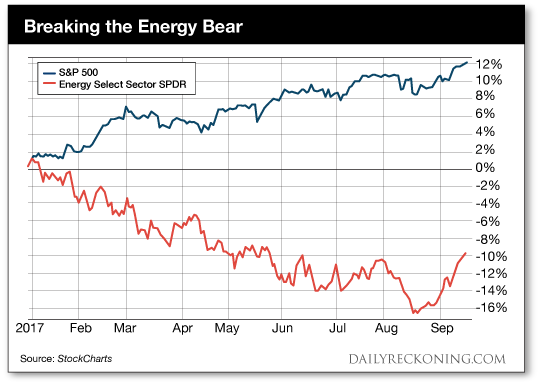 The Energy Select Sector SPDR has gained 8.5% over the past month, compared to a gain of a little more than 3% in the S&P 500. The sector is now above its July highs and looking to snap its 2017 downtrend.
This month's action in the energy sector gives you a great shot at getting in on a burgeoning turnaround play.
This article originally appeared on Daily Reckoning.