North Korea's lobbing missiles again, prompting some selling before today's open.
But there are still bullish developments playing out below the market's shaky surface. Sometimes, it only takes an $11 billion deal to get a slipping sector moving in the right direction.
---Sponsored Link---
The 'Green Gold Rush' Begins NOW
Marijuana legalization is sweeping the country... On Election Day, California, Nevada and Massachusetts all roundly voted to legalize recreational marijuana use. And this sea change could kick-start the birth of this $100 billion industry. Take action TODAY, and you have a once-in-a-generation opportunity to turn a tiny $50 investment into an absolute fortune. Click here to find out how.
Kite Pharma Inc. (Nasdaq: KITE) scored a huge win for biotech investors as it received a buyout bid from industry giant Gilead Sciences (Nasdaq: GILD) to kick off the trading week. Gilead presumably snatched up Kite to add the company's personalized immune system cancer treatment to its portfolio. And it didn't come cheap...
The $11 billion offer is a premium of nearly 30% over KITE's Friday close. Shares jumped more than 28% Monday, pushing its year-to-date gains to almost 300%.
The buyout came as a shock to many investors. KITE has enjoyed market-beating performance recently. But the company hasn't won universal praise. Many analysts and investors have raised valuation concerns this year. In fact, Bloomberg has called KITE "one of the medical industry's biggest battlefield stocks".
"Bearish bets were substantial," Bloomberg notes. "As of mid-August, short interest amounted to about eight days worth of Kite's average trading volume, a days-to-cover ratio in the upper third of 2,500 Nasdaq-traded companies."
Yesterday's buyout puts the issue to rest once and for all. The bulls won, fair and square...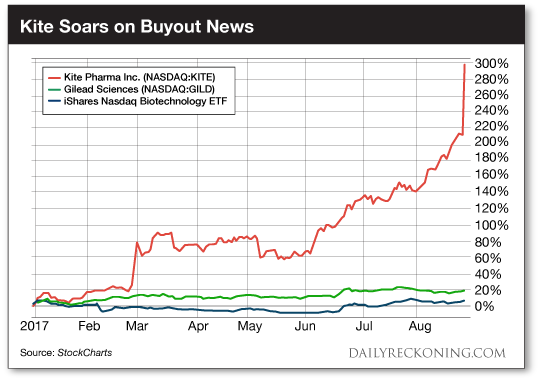 To be fair, we didn't have a dog in this fight. Neither KITE nor GILD are in our trading portfolio. But that doesn't mean the buyout's not affecting our trades -- and the entire industry, for that matter.
Thanks to the positive news, the industry has some pep in its step this week. After sliding lower to start the trading month, biotech stocks are quietly posting a powerful comeback.
The iShares Nasdaq Biotechnology ETF gained almost 2% on Monday, compared to an 0.3% gain posted by the Nasdaq Composite. The sector is back above its 50-day moving average and powering back toward its early August highs.
Bottom line: the late-summer fade is finished. Biotech stocks are ready to finally put the finishing touches on a months-long quest to reassert the sector as a true market leader.
We've closely monitored this year's biotech breakout since its infancy. Biotech showed it was poised to become a breakout star as early as January. The healthcare sector exploded out of the gate to start the year, giving a much-needed boost to biotech. It was the strongest sector on the market during the very first trading week of the year, setting the tone for this once-ailing sector as it started to pick up the pieces...
The health care carnage was finally coming to an end. Our favorite pharma stocks were finished crashing every time a negative news related to price-gouging or a pharma scandal soundbite hit the airwaves. The bulls were back in control!
But our resurgent biotechs didn't shoot higher in a straight line. Comeback moves are never perfect -- and we can't forget that biotechs  had to dig out of a nasty bear market. Even after bouncing off its winter lows, biotechs and health care names underperformed every other major sector on the market in 2016. Last year, the Health Care Select Sector SPDR (NYSE: XLV) registered its first annual loss since 2008.
But biotech fought off several hiccups during the first half of 2017 as the sector continued to quietly gain traction. When the FAANGs began to weaken this summer, biotech stocks picked up the slack. The industry's momentum plays started to separate from the pack. Our SPDR S&P Biotech ETF (NYSE: XBI) position jetted higher in June and roared back to life late last week. It's up 35% year-to-date, compared to the Nasdaq Composite's 17% gain.
We've also taken advantage of additional bullish market signals in the biotech sector this summer. We entered a position in Celgene Corp. (Nasdaq: CELG) back in June. The stock jumped double-digits in just a few weeks as it broke out of the choppy bear market that had trapped shares since 2015. Even after enduring some early August weakness, our position remains in the green.
Then there's Incyte Corp. (Nasdaq: INCY). The stock was breaking out of a four-month coil when we first picked up shares in July. While we remain in the red on this trade, shares are parked right at their 200-day moving average. A meaningful bounce is in the cards if we continue to see positive momentum in the sector.
The major averages could continue to spin their wheels as we finish off what has been a slightly tumultuous trading month. But if yesterday's action is any indication, select industries and sectors like biotech and health care stand to offer bullish setups heading into September trading.
This article originally appeared on Daily Reckoning.