Sick of hearing about expensive, popular stocks?
I don't blame you.
---Sponsored Link---
Attention Seniors: MUST-SEE Obscure Social Security Contract
Thanks to a contract just like this one, you could receive four deposits of as much as $6,880 in 2017... No matter your age or income level... Without having to pay extra taxes... And without affecting your Social Security checks. If you act before October 19th, you could be the next one to receive these deposits from the private sector. You just need to put your name on the list of recipients. Click here to see how.
The FAANG brigade isn't exactly setting the world on fire this month. Apple is the only member of this exclusive club that's bothered to set a new all-time high in August -- and that was more than a week ago.
But we're supposed to bank easy money in this market every single day. What gives?
Time for a reality check.
It's not a stretch to say that many of these stocks are overdue for some downside action. That's not a bad thing! In fact, a little weakness in Facebook, Amazon and the rest could help set up your next big trade...
With the major averages and the mega-cap leaders cooling off, speculators are searching for their next hot momentum play. Some folks are chasing Chinese ADRs (we've covered this trade from all angles). Others are grabbing semiconductors in hopes that these first-half champs will lead the market out of its funk as summer trading winds down.
These are both good places to look if you want try and make a quick buck. But today, we're going to stray from the momentum movers. Instead of overloading our short-term portfolio in a what is traditionally a cyclically weak period for stocks, we're going to build on one of our bigger themes that's just starting to resonate with bargain-hunting investors.
I'm talking about rock bottom retail.
Last week, we showed you some downright troubling numbers from prominent brick and mortar retailers. The first half of the year was a disaster for the mall anchors, we reasoned. No relief is in sight for some of these troubled companies.
It's no secret these stocks are in trouble. But there's more to the "death of retail" story than these struggling stores.
As we've explained when we first revealed this thesis, it is highly unlikely that every single retail location in the country will close its doors and declare bankruptcy. The best businesses will adapt and survive. The trick is to separate the winners from the losers. That may seem obvious. But it's not a simple task.
We've buried the likes of Macy's and Dillard's because these average, big-box mall stores don't offer customers a unique shopping experience. They're forced to run countless locations, manage inventory, and appease customers with big discounts -- all things Amazon doesnt have to worry about.
On the other hand, we're bulled up on the extreme discounters and dollar stores. If a retailer is fully dedicated to selling cheap junk, it just might have what it takes to survive Amazon's e-commerce onslaught.
The problem brick and mortar retail investors face in the age of Amazon isn't related to consumer spending. It's about figuring out where these dollars are flowing now that a large percentage of shopping has migrated to the internet.
"Overall spending has been strong, though more of it is shifting online," The Wall Street Journal notes. "Sales at retailers and restaurants in July rose 0.6% from a month earlier, the biggest increase since December, the Commerce Department said Tuesday. Individual retailers missing out on the sales pickup are those struggling with their lineup of merchandise and how it is priced."
One glance across the retail landscape shows just how devastating this shift in spending has become...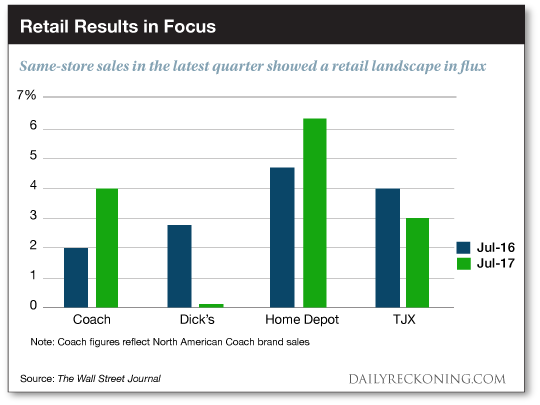 First, you have Dick's Sporting Goods (NYSE: DKS). The stock was pummeled more than 20% last week after the company lowered its full-year earnings forecast. Even the bankruptcy of rival chain Sports Authority couldn't help Dick's this year.
On the other hand, there's TJX Cos. (NYSE: TJX), parent company of T.J. Maxx and Marshalls. TJX shares are down in 2017 -- but not out. The chain recently reported sales gains thanks to increased foot traffic, the Wall Street Journal notes.  Thanks to the constantly changing inventory in its stores, TJX can attract foot traffic from bargain hunters that it needs to compete with the online shopping crowd. Its offering an experience Amazon has yet to duplicate. That's a big win...
When it comes to putting real money on these retail comeback plays, we're going to remain picky. There are plenty of "cheap" retail stocks to choose from. But it's clear many are cheap for a reason. Not only will they probably keep trending lower -- they might not even survive.
For now, our little retail portfolio is holding up nicely. Negative retail sentiment continues to hit unprecedented extremes. You're perfectly positioned to profit from this trend as it continues to develop.
This article originally appeared on Daily Reckoning.