It's tough to complain about the market as it pushes to new highs almost every week.
But where there's a will, there's a way.
---Sponsored Link---
Dear Reader,
Did you know that some Americans are getting as much as $6,235 deposited directly into their accounts... Even though they're not old enough to collect on Social Security benefits? It's all thanks to a little-known contract involving the Social Security Administration. And don't worry... Because these deposits come from the private sector, they don't affect your ability to collect on Social Security. Click here to see how you can get your name on the list of recipients. But hurry... By law, you must act before January 19th in order to get your first deposit. Don't waste any time. There's a lot of money involved. Last year alone, $122 million was paid out. Click here to see how you can claim your piece of the pie.
The latest gripe to hit the wire is there aren't any dips for investors to buy these days. Stocks are marching higher virtually uninterrupted. Anyone who's patiently waited for a pullback has remained stuck on the sideline all year.
No dips to buy?
Nonsense. After all, we're talking about the stock market. A quick search can dig up countless underperforming stocks, even if the major averages are charting new highs.
If you're one of these twisted individuals searching for stocks that are going down during a roaring bull market, you don't have to look very far. Just check out General Electric (NYSE: GE).
GE is in a tailspin. The stock has dropped for 8 straight months. As analysts took an axe to the company's gloomy prospects yesterday, shares fell more than 6%. That's its biggest one-day drop in more than six years, Bloomberg notes. GE is the worst performing Dow component in 2017. And it doesn't look like it's about to mount a turnaround anytime soon…
Did the company not get the memo that we're in a bull market?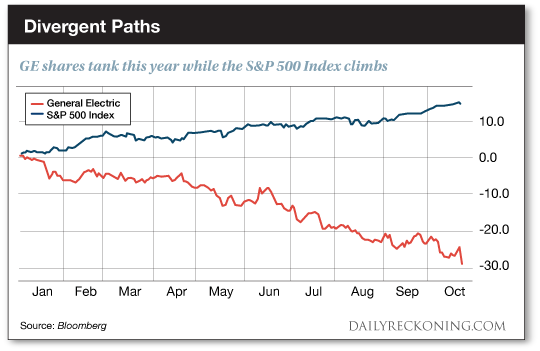 That's one ugly chart!
But with eager dip-buyers on the prowl, some folks might be looking to scoop up shares of a beaten down household name like GE. After all, General Electric is the quintessential American conglomerate. Sure, it's getting crushed right now. But GE isn't going anywhere.
So is it time to take a shot at this sinking giant?
Not quite…
If you're looking to scoop up cheap GE shares, your best bet is to wait for one of my favorite Dow trading "signals".
Just wait for GE to get kicked out of the Dow. Then it's time to buy.
I know that might sound crazy to you. But stocks booted from the Dow can trigger a profitable "hate trade". These are the plays that no analyst or investor would touch. They become so hated that no one's left to sell and push the price lower. That's when the fun begins…
That's exactly what happened to Alcoa after the Dow kicked the company to the curb back in 2013. The aluminum company had enjoyed 54 years as a member of the Dow Jones Industrial Average. But Alcoa's low share price had become a bit of a problem for the Dow (which, unlike the S&P 500, is a price-weighted index). That means that toward the end of its run, even a major move in Alcoa shares barely registered on the Dow. In that sense, the company had become irrelevant.
So Alcoa got the boot. The stock was already considered a joke. It never beat earnings expectations and shares always seemed to find lower ground. No one took the stock seriously.
Alcoa's expulsion was the final straw for this stock. Every bull was chased from the barn. It was just the spark the stock needed to begin a new rally. The week the stock was jettisoned from the Dow was rock bottom for Alcoa. From there, a massive change in trend helped carry this stock to gains of more than 100% in a little more than a year.
Not bad for one of Wall Street's most hated names at the time. Getting tossed from the Dow was the best thing that ever happened to Alcoa.
If GE continues to spiral lower, a newer, more advanced company will end up taking its place in the Dow. When GE gets kicked to the curb, we'll have a shot at picking up shares of the former American industrial superpower.
But until that happens, don't reach for the falling knife...
This article originally appeared on The Daily Reckoning.