Biotech is blowing every other sector out of the water this week.
The biotech sector tossed the flagging Nasdaq over its shoulders and carried it to impressive gains yesterday. Meanwhile, the Dow and S&P 500 finished the day in the red.
In this market, all investments are not created equal...
The big stocks listed on the Dow and S&P aren't the only losers pushing into the red this week. While biotech stocks are blasting higher, the energy sector is tumbling toward a new bear market. Oil cratered more than 2% once again on Wednesday, falling to new 2017 lows. And it doesn't look like it's about to reverse course anytime soon.
---Sponsored Link---
Attention Seniors: MUST-SEE Obscure Social Security Contract 
Thanks to a contract just like this one, you could receive four deposits of as much as $6,880 in 2017… No matter your age or income level… Without having to pay extra taxes… And without affecting your Social Security checks. If you act before July 20th, you could be the next one to receive these deposits from the private sector. You just need to put your name on the list of recipients. Click here to see how.
"In the last year alone, the energy sector has underperformed the S&P 500 by more than 23 percentage points," Bespoke Investment Group notes. "While the margin of underperformance was a lot wider during the energy bust a couple of years back, since 1980 there have only been a handful of other periods where the margin of underperformance was this wide.  More recently, since 2000, it has only happened twice."
Energy stocks are taking a beating as crude continues to slide. The Energy Select Sector SPDR (NYSE: XLE) is down more than 16% from its December highs.  The SPDR S&P Biotech ETF(NYSE: XBI) is up a staggering 29% over the same timeframe.
Take a look for yourself...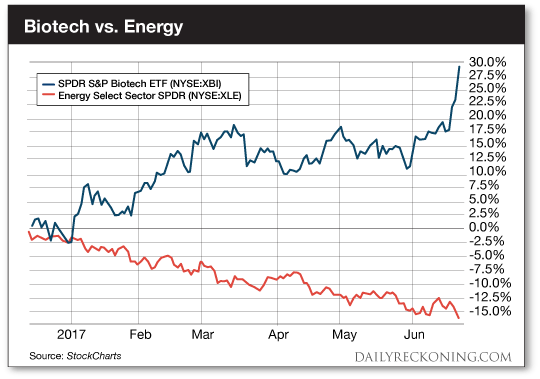 Once again, the market demonstrates how critical it is to have your trading dollars in the correct stocks and sectors. The first half of 2017 would have been a total bust for our trading portfolio if we tried to catch the oil knife instead of riding the tech stock boom.
Frankly, I love this biotech breakout. It's the first group of stocks that are starting to gain serious momentum since the FAANGs took over the market at the very beginning of the year. It also proves that investors have an appetite for stocks other than Apple and Amazon. That's a good thing. As I've noted over the past several weeks, we want to see market rotation.
Remember, a healthy bull market is like a relay race. When market-leading industries and sectors become overextended, traders will move on to the next hot group of stocks. Of course, we don't necessarily want to see the big tech stocks crash. Ideally, the strong sectors will simply trade sideways to blow off any excess steam. That's healthy market action. Remember, no stock can climb higher in a perfectly straight line. Even the strongest trends need a break every once and a while.
For the traders piling up all their chips on the FAANGs, these rotations are a painful reminder that stocks can't rocket higher every single day without encountering some pullbacks and corrections along the way.
We already saw the start of a rotation into small-cap stocks late last month when the big tech names first started to slip from their all-time highs. And while smaller stocks backfill a bit, we can add biotechs to the list of powerful new breakouts.
Buckle up! The new biotech boom starts now...
This article originally appeared on Daily Reckoning.