The formula has remained the same for decades.
Wall Street cashes out. Retail investors get burned.
Market hucksters have force-fed mom and pop investors useless new stocks for years. The initial public offering always manages to capture the herd's collective imagination. But it rarely translates into immediate profits.
As you've probably already figured out, most IPOs are just cash grabs for up-and-coming companies and underwriters. This is especially true when it comes to trendy sectors and industries. Unless you're looking to flush money down the toilet, placing a huge bet on a brand-new stock with no price history is probably a bad idea.
But after a rocky start to the year, the IPO market is starting to attract some new speculators -- especially in the tech space. Fact is, some of these new stocks are actually going up. At least for now.
I'll reveal these new names and how to play 'em in just a minute. First, you need to see what happens when an ill-advised IPO gets whacked. As you've probably guessed, we've seen our fair share of duds this year...
The best of the worst has to be Blue Apron Holdings (NYSE: APRN). The company is one of a few prominent "meal in a box" subscription services that sends subscribers ingredients and recipes for healthy food they can cook from scratch.
But if you want to cook up some gains, you'll have to look elsewhere.
The smoke was already billowing from Blue Apron's kitchen before the stock's first day on the NYSE. Management cut its IPO range buy a few bucks due to soft institutional demand. It ended up opening at $10 on the nose in late June.
Of course, the $3 billion valuation was pricey for a company that sends overpriced food and recipes through the mail. When APRN first hit the market, I couldn't quite wrap my head around why anyone would want to buy shares.
Not much has changed. Blue Apron shares have tanked almost 50% since their June debut.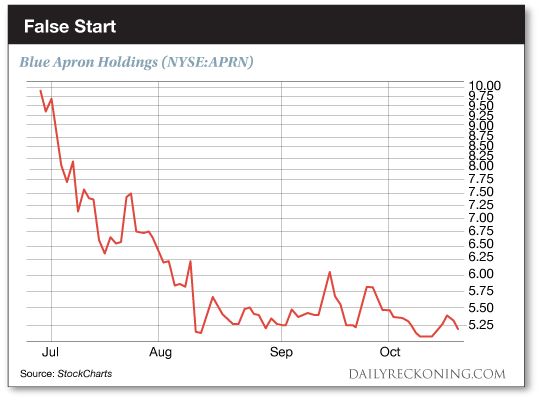 If you're frantically feeling for a floor in Blue Apron shares, it might be time to call off the search. Just a few months after going public, Blue Apron management is already laying off hundreds of employees. I doubt we'll hear much celebrating during APRN's upcoming earnings call.
"The company is an example of a complex business that can face significant challenges acquiring and retaining customers," Tech Crunch notes, "as well as one that faces an existential threat from Amazon."
Of course, this is just a polite way of telling us that Blue Apron's IPO is a total dud.
But not every new stock is hitting the skids these days. In fact, some tech IPOs are booming.
Database software upstart MongoDB (Nasdaq: MDB) jumped 33% during its market debut on Thursday. It's success comes on the heels of Roku Inc. (Nasdaq: ROKU) sustaining its day-one IPO gains of more than 65%. And even though it has drifted lower, Switch Inc. (NYSE: SWCH) is retaining a good amount of its first day gains.
To be clear, I don't think it's a great idea to blindly jump into these tech IPOs just because they aren't tanking. But as we prep for the fourth-quarter sprint, it's becoming clear that there's an appetite for these new stocks that could help reverse some others that haven't been able to get off the mat.
This article originally appeared on The Daily Reckoning.